Paul Merson has warned Man City need to be at "full throttle" if they are to win this season's Champions League and explains why Ruben Dias is his choice for player of the year over Bruno Fernandes.
Raheem Sterling's early goal won the game for Pep Guardiola's side against Arsenal on Sunday, their 13th consecutive Premier League victory, meaning they remain 10 points clear of second-placed Manchester United.
The Gunners failed to land a glove on the league leaders as they eased to victory at the Emirates Stadium to seal an 18th consecutive win in all competitions with attention now turning towards their Champions League campaign and their last-16 clash with Bundesliga side Borussia Monchengladbach on Wednesday.
And while they may not have needed to get out of "second gear" to dispatch of Mikel Arteta's side, Merson insists they will need to be at "full throttle" if they are to finally lay their hands on the Champions League trophy.
Merson: My concern for Man City
"Against Arsenal, who are not the best team at the moment, Manchester City didn't come out of second gear," he told Sky Sports.
"That's a dangerous game, though, in my opinion, and they've got to get out of that mindset if they want to go all the way in the Champions League.
"They played well within themselves at the Emirates and, for me, it got a bit worrying because it only takes one thing to happen in the game and it's 1-1.
"Before you know it, that's it. You are sitting there after the game scratching your head, wondering how you didn't win the game."
"I've seen that enough times from Man City over the years, especially in the Champions League.
How to follow Monchengladbach vs Man City
Follow Monchengladbach vs Man City with our dedicated live blog across Sky Sports' digital platforms and on Gillette Soccer Special, live on Sky Sports News and Sky Sports Premier League from 7pm.
'City need to be at full throttle for CL success'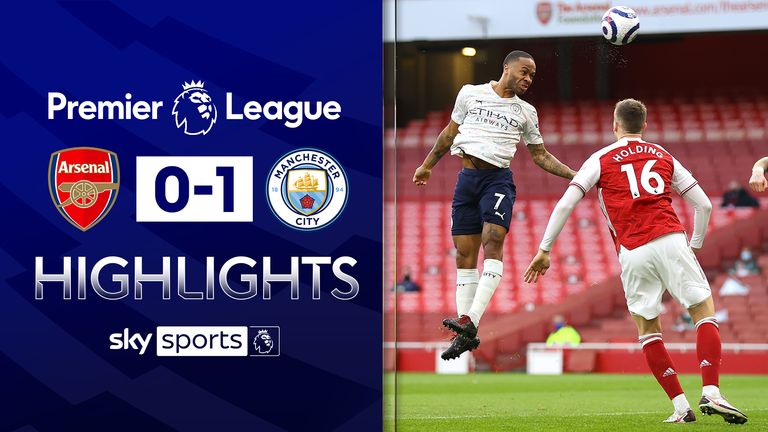 "That's my only concern for Man City," he added."
"It's nice to have gears to go through but when it's tight like it was against Arsenal, it only needs something out of the ordinary to peg them back.
"When you come down to the business end of the season and it's coming down to only one or two games for quadruples, you've got to be ruthless and not be playing in second or third gear.
"You've got to go full throttle."
Download the Gary Neville Podcast on: Spotify | Apple | Castbox | Spreaker
'Dias over Fernandes for player of the year'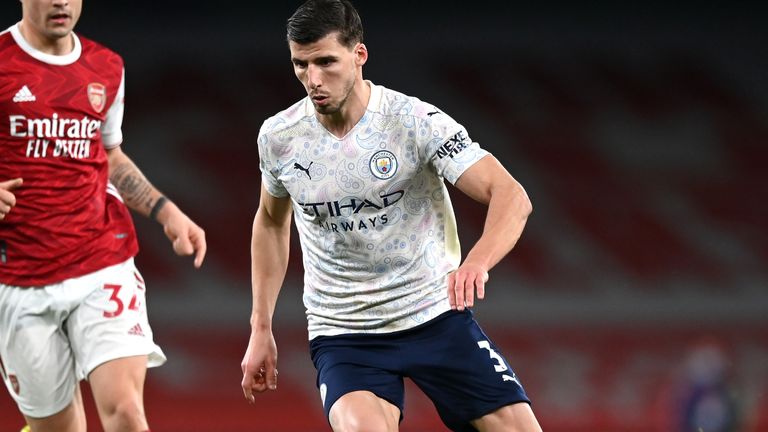 A player who can help Manchester City to Champions League success and win what has so far proved an elusive trophy for Guardiola's men is defender Ruben Dias, according to Merson.
The Portuguese defender was in brilliant form once again as his man of the match display helped City to a 15th clean sheet in their victory over Arsenal.
And Merson thinks the 23-year-old defender, who moved to the Etihad Stadium from Benfica in a deal worth £65m, is the leading candidate for player of the year ahead of Manchester United midfielder Bruno Fernandes.
"I like to go with someone [for player of the year] who has had an effect on a team winning something," he said.
"I really do like Bruno Fernandes. I love what he's done at Manchester United. People say he cannot be compared to Eric Cantona until United do what that side did in terms of trophies, but what more can he do?
"He is doing his job and doing it unbelievably well. All he can do is create chances and score goals, and that's exactly what he's doing, but he can't defend all at the same time. He's not the one letting in soft goals every now and then. He can only keep doing his job to the best of his ability and he has carried a massive football club on his shoulders. That takes some doing, believe me."
Analysis: Ruben Dias making case for PFA Player of the Year award?
Sky Sports' Lewis Jones in Hits and Misses:
There was a feeling at Manchester City they would never see the like of Vincent Kompany again when he hung up his boots. Well, not only have they replaced him they may just have surpassed him with the talents of the imperious Ruben Dias, who was magnificent as City made it 18 wins in a row in another defensive masterclass performance against Arsenal.
Jamie Redknapp called him "phenomenal" in the aftermath while Gary Neville awarded him the man-of-the-match award, saying: "It was an absolutely fantastic performance again. I thought that (Aymeric) Laporte would be the rock of this defence for many years to come but Dias is turning out to be the star man. We asked how they would replace (Vincent) Kompany. Well, watching Dias week-in, week-out, he's so young, physically brilliant, great on the ball, and he has got real leadership qualities. He was outstanding today."
Talk has been relatively quiet surrounding the PFA Player of the Year vote, which is undertaken by the professionals in the spring, but Bruno Fernandes is seemingly the hot favourite. Yet, it will surely to be hard to pick against a player from a club that is cantering towards the Premier League title with the potential to break all defensive records in the process. It's 11 clean sheets now and just two goals conceded in 13 Premier League starts alongside John Stones for the brilliant Dias. They are quite the pairing.
Is it possible for a defensive player to receive the votes from his peers for the award? History does suggest it's tough but doable. Virgil van Dijk was the most recent winner in 2019 while N'Golo Kante edged out the more obvious case for Eden Hazard in the 2017 award. Dias deserves a shout.
'Players are fearful of Dias'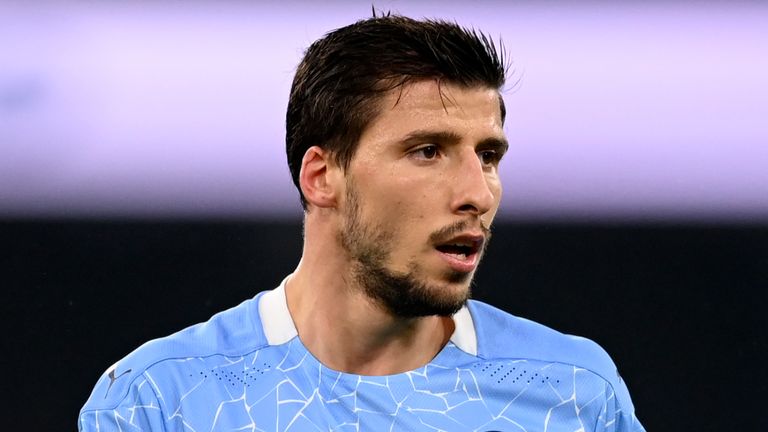 "However, I look at Ruben Dias and think, wow!" he added.
"Did you ever see Man City conceding the least amount of goals in a season in this league? I think he's starting to get the reputation of someone like Virgil van Dijk.
"When you watch him now, I think players are fearful of him. They get him in a one on one situation, and they think they cannot get past him. He's got that fear factor.
"At the moment, I can't look past him for player of the season.
"Fernandes has been great, don't get me wrong. He's done what he's had to do and more, but I always think, when you are talking player of the season, you have to pick someone who has won the league.
"When Kevin De Bruyne won it last year, I just can't see how a player wins it when another team have won the league by a mile. If you are a Liverpool player, you are sitting there scratching your head thinking about the numbers you'd put together and one of your players is not player of the year. It's a team game and you've got to pick a player from the team that's won it. You never get man of the match from a losing team.
"That's why I'm going with Dias. He has made Man City a far better team than what they were last season.
'Dias' arrival has improved Stones'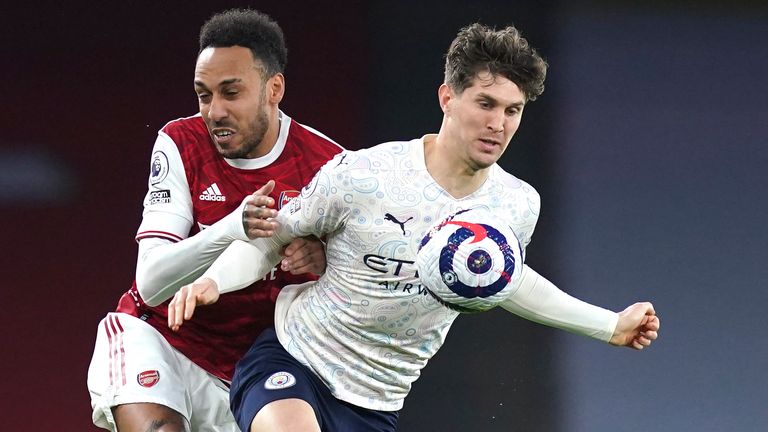 "They now have a big chance of winning the Champions League with him in the team. He's also got someone next to him in John Stones who looks a completely different player.
"He looks back to where we thought he would be. He's looked at Dias and thought about how everyone is going mad about and saying what a great defender he is. He just defends. He is a defender, simple as that.
"He can pass the ball and spray it about, but he doesn't do Cruyff turns or take unnecessary risks. He just defends and Stones has looked at that and said that's what he's going to do. He's done that and fair play to Stones for that. He's been great alongside Dias.
"For those reasons, I have to go with Dias."
Follow Borussia Monchengladbach vs Man City with our dedicated live blog across Sky Sports' digital platforms and on Gillette Soccer Special, live on Sky Sports News and Sky Sports Premier League from 7pm.